Accelerating and reinforcing the response to the emergence of new respiratory viruses.
A network of virology laboratories using the same technique for rapid, robust and comparable results

Within the WP1 of EU-RESPONSE, the Hospices Civils of Lyon with the CNR (National Reference Centre for viruses of respiratory infections) created an operational European network of virology laboratories. The overall objective is the harmonization of procedures and capacity building between European partners for virological analyses. The aim is to benefit from a network responsive during this pandemic but also in the event of other emerging infectious diseases, a network capable of carrying out, in a short time, a viral quantification technique for the evaluation of the antiviral effectiveness of a treatment. Using the same technique is the only way to provide robust and comparable results.
The operational set-up of this network was done as part of the Discovery trial and the evaluation of AstraZeneca's monoclonal antibody treatment. To achieve the harmonization and capacity building in the best way possible, it was decided to work with a commercial kit. BioMérieux worked closely with us on this project to obtain from all laboratories, normalized viral loads. The normalization and the use of the same RT-PCR are the only way to compare viral loads done in different laboratories and in different samples between good or poor quality samples, depending on the cell concentration and between different types of respiratory samples. The performance of each laboratory is monitored in real time by providing a single quality check.
Twelve referent laboratories were identified, in the countries partners of the WP1 of EU-RESPONSE and received information on the project, the technique and the objectives. Then came the training by the Molecular Business Support Team of bioMérieux and a test on each laboratory platform followed by the R&D team of bioMérieux and the CNR. So far, eight laboratories have been validated and are ready to collaborate, others are under validation. This network aims at integrating new partners representative of the whole European Union.
Contacts :
Nathalie Bergaud – Project manager
nathalie.bergaud01@chu-lyon.fr
Maude Bouscambert-Duchamp – Virologist
maude.bouscambert-duchamp@chu-lyon.fr
Alexandre Gaymard – Virologist
alexandre.gaymard@chu-lyon.fr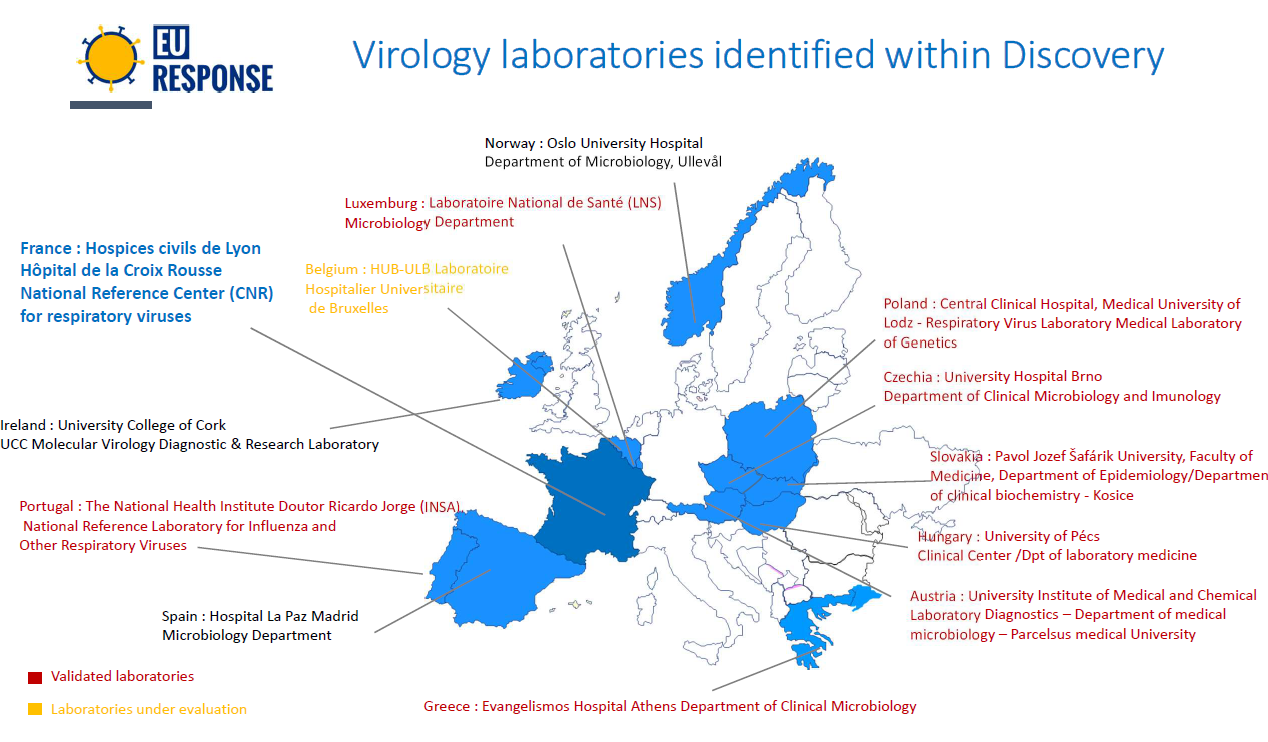 The project is supported by the European Commission under the H2020 Programme.